THE BATANG KANYAU IBAN AROUND BETUNG KERIHUN NATIONAL PARK (II)
Location: Kelayam village, Kapuas Hulu District, West Kalimantan (Indonesia)
Date: June 2002.
Nikon FM-2, (film: +; ASA: 100)

GAWAI IBAN
Gawai Iban, or the Iban rice harvest ceremony (linking the old and new agricultural cycles) is celebrated throughout the Iban areas of West Kalimantan & Sarawak, which usually falls around June or July (and made a national holiday in Sarawak). It is the most important event of the year, marking the return of every Iban (especially Iban working migrants) to their respective villages.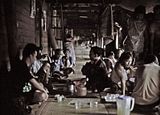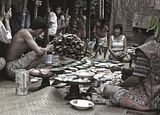 Ijuk,

or rice wine, is a primary treat in the longhouse (L), while

rendai

(rice crispies) and eggs make up the essential offerings to the spirits (center), while the chicken is the standard medium in

besampi

prayers (R)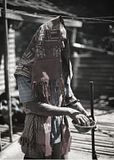 Rendai is being thrown outside the longhouse to appease the spirits (L), old traditional Iban weaving cloth (

Pua Kumbu

) many over 100 years old, are put on display (center), while reading a pig's liver makes an essential reading to forecast life events during the next agricultural cycle (R)
Apai Kunyan doing a

Ngajat

(Iban dance) to bring the vividness of his

Entelah

(traditional Iban riddles) to life.



Labels: ethnic groups, Iban, West Kalimantan